Alpine Breeze
Enjoy the heavenly scent of pine in this rich and exhilarating soap (with a pretty green swirl!). A good choice for the man in your life....or for putting some life in your man! A great hydrating bar for all skin types.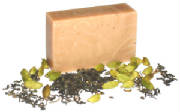 Mystique of East
Mystique of the East
Indulge in this exotic face and body treat... a superior moisturizing bar with the evocative scents of cardamom, patchouli and ylang ylang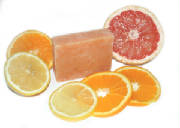 Citrus Splash
Citrus Splash
New! A refreshing and mouthwatering blend of lemon, orange and grapefruit...a perfect way to start your day and leaves your skin squeaky clean!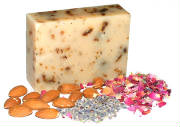 Luna Love
Luna Love
Also new! A fabulous bar made with fresh goats milk, crushed almonds, and dried rose petals that is perfect for soothing your skin and sending your spirits soaring. With the essential oils of geranium, lavender and vetiver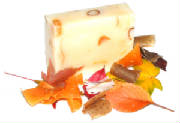 Autumn Leaves
Autumn Leaves
A rich, earthy emollient soap for unwinding and destressing with cocoa butter and patchouli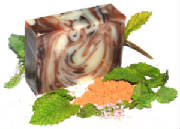 Peppermint Swirl
Peppermint Swirl
A real treat for your body! Indulge in a moisturizing bar made with cocoa butter and peppermint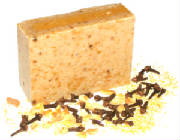 Orange Clove Blossom
Orange Clove Blossom
A lovely and gentle exfoliating soap with cornmeal and honey. A beneficial polishing soap for all skin types.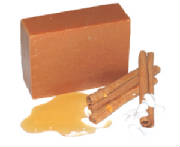 Goat's Milk and Cinnamon Honey
Goat's Milk and Honey
A luscious and creamy hydrating soap for dry skin - made with fresh goat's milk, almond oil, cinnamon, nutmeg, and honey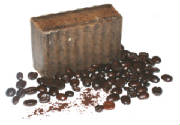 Double Shot Coffee Bar
Double Shot Coffee Bar
For the ultimate coffee aficionado - a sudsy hand and body bar with a deep rich coffee aroma. Made with espresso and ground coffee beans. The Coffee Bar is excellent for absorbing odors and for gently exfoliating the skin and unclogging pores...who said you couldn't have your coffee in the shower?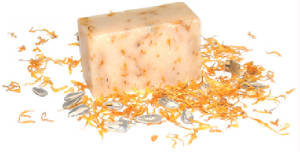 Calendula and Sunflower
Calendula and Sunflower
A healing soap with clary sage, calendula petals and sunflower oil for stressed out skin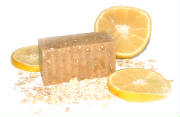 Lemon Oatmeal Scrub
Lemon Oatmeal Scrub
A refreshing and invigorating wake-up soap with a good scrubby feeling!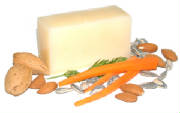 Oh Baby!
Perfect for babies or anyone with very sensitive skin. Oh Baby is unscented, uncolored and our most mild and gentle soap with sweet almond oil, sunflower oil and carrot seed oil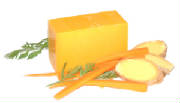 Biker's Bar and Runner's Bar
Runner's Bar
A stimulating and invigorating soap with a blend of organic carrot juice and fresh ginger. Fresh ginger essential oil in the soap helps rejuvinate tired muscles and increase circulation. Beta carotene in the carrot juice drenches thirsty skin with vitamin A. Great for atheletes and armchair athletes alike!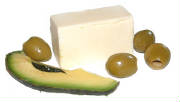 Salad Days
Salad Days
A gentle replenishing soap made with avocado and olive oil and with the inviting scent of fennel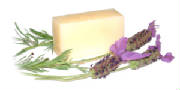 Lavender
Lavender
A timeless classic that is gentle and mild with the comforting scent of lavender
Variety Pack
Can't decide? Don't limit yourself!! Try the DevaLuna Variety Pack - a perfect way to experience a number of our sensational soaps. Your variety pack will be filled with 6 2.5 oz bars (perfect travel size or for your gym bag!) combining our tried and true favorites with our latest seasonal soaps $18.00

DevaLuna Soap Dish
A handcrafted handmade soap dish specifically designed for the proper drainage to enhance the life of your DevaLuna Soaps! All natural wood. A great gift too!! $5 / dish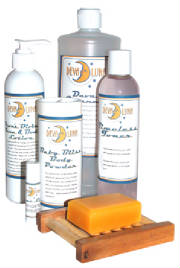 Hand Crafted DevaLuna Soap Dish and Other DevaLuna products